MyNiceHome, which is owned and managed by the Housing Development Board, is a website whose articles offer practical insights and wisdom for current or potential home owners. Articles range from providing advice on the entire buying process for HDB units to design ideas for renovating a home among many other themes. Its home page contains a section called "Top Picks" which it uses to showcase carefully curated content items to cater to a wide range of user interests.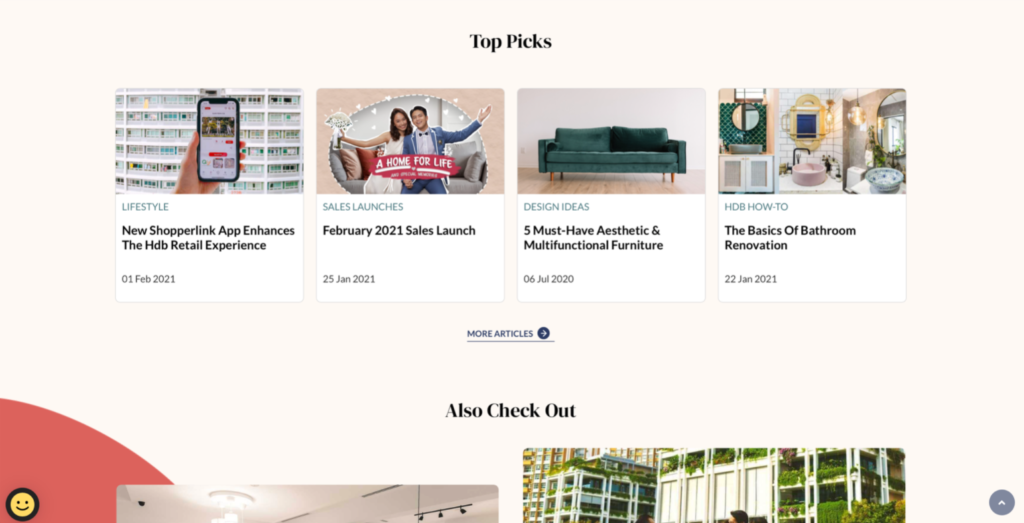 MyNiceHome engaged the Personalise team with a view of personalising the experiences of their users by recommending relevant content based on user interactions. Rather than spending man-hours on identifying content, gauging relevance, assessing the coverage of the combination of relevant articles, and modifying the UI to display the relevant content, MyNiceHome could automate the process using Personalise' machine learning techniques, which can infer not only the content attributes (e.g. article topics) but also the user interests (e.g. intent to buy a home) based on their browsing behaviour.
To accomplish this, MyNiceHome shared with the Personalise team:
A sitemap.xml, which enabled Personalise to determine which content items to recommend, their titles, and accompanying thumbnails
The UI web elements with which to populate the recommended articles.
The Personalise team handled the rest, including:
Integrating with WOGAA clickstream data
Training the recommendation system using WOGAA data
Serving and deploying recommendations directly to users upon viewing
Personalise initiated an A/B test to confirm the impact of the Personalise system. Each user visiting MyNiceHome would be assigned to the control group, who would continue to receive the articles curated by MyNiceHome, or the test group, who would now receive recommendations from the Personalise system.
After a few weeks, we logged the activity of more than 60 thousand users, equally divided between the control and test groups. An analysis of this activity showed that those who received personalised recommendations found the recommended articles more relevant and were more engaged by the recommendations. Quantitatively speaking, those who received personalised recommendations were nearly three times as likely than those who were shown the curated articles to click on a recommended article (2.28% vs 0.88%), and personalised recommendations were twice as likely than the curated articles to be clicked (0.97% vs 0.46%).
These observations have enabled MyNiceHome to have a more informed and nuanced conversation about how to attract and cater to new visitors to their website.
To start personalising your content offerings for your audience, reach out to us at hello@personalise.gov.sg.